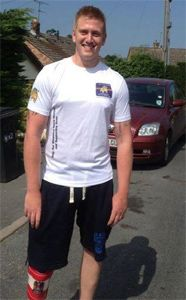 Aaron Moon
Aaron joined the Royal Marines in 2006, passing out in March 2007, a promising career lay ahead of him, after leaving Lympstone Aaron was posted to FPG and made an application to join Armoured Support Group. During this time he played rugby for the Royal Marines, having played since he was five Aaron was very talented.
On 11th February 2009 Aaron departed for Afghanistan, aged 21. Just one week later Aaron was driving a Viking Armoured fighting vehicle on a night drive, he was fourth in line, motion from other vehicles caused an IED to be pushed to the surface. It exploded, devastating Aarons vehicle, causing horrific injuries. Aaron lost his Right knee, his lower Right leg shattered, loss of right heel, loss of half of his left knee, a large portion of left lower leg muscle blown away, multiple fractures, dislocation of left hip, ruptured spleen, loss of some sight and hearing, burns, shrapnel injuries, and memory loss.
This had changed his life instantly, faced with of extreme pain, injuries and circumstances. When he was told that he could keep his right leg, living in pain for the rest of his life or have it cut off, Aaron elected to have it amputated without hesitation. His positive attitude was one of; how soon can you do it. Aaron suffered considerable problems with infection, having more of his right leg removed as a result.
Aarons mother Janice Moon contacted Help Our Wounded Royal Marines and Supporting Arms and asked if we could help Aaron in some way, as she was extremely concerned about his well-being and state of mind. Aaron was not only an avid rugby player but also a keen golfer so we offered to purchase a Segway in order to assist Aaron in doing something he enjoyed again, golf. Although Aaron was elated with our offer after a few days of consideration he contacted us and said that on reflection he would like the money to be spent to assist him in helping others. He asked that we fund his enrolment in a Personal Trainer course in Manchester, we were happy to oblige. Aaron passed the course, becoming a qualified Personal Trainer and then late last year opened a successful gym, Just Results Gym in Bolton, with a diverse client base including certain clients with disabilities. When we spoke to Aaron recently he said that the gym was "All with a big thanks to Help Our Wounded."
Help Our Wounded would like to thank Aaron not only for his immense sacrifice as part of the Royal Marines, but for serving as an inspiration to other wounded troops, we are so pleased to have been able to help.
Just Results Gym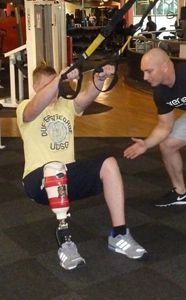 This year (2022/2023) we gave out grants totalling just over £62,500.00.
£892 Assistance for homeless former RM
£2000 Assistance for former RM suffering from cancer
£148 Car repair bill for ill former RM
£940 University Fees for RM wife
£2500 Assistance for ill former RM
£2500 Assistance for former RM house repairs
£999 Assistance for ill former RM
£2000 Coming Home Centre donation
£3500 Assistance for ill former RM
£6000 45Cdo Memorial Garden upkeep
£635 Donation UK Homes 4 Heroes
£286 Paid for a wounded RM fishing trip
£2145 Assistance for almost homeless former RM
£3000 Assistance for ill former RM
£2688 Assistance for former RM with cancer
£3000 Assistance for former RM in financial trouble
£5000 Help for wife of RM looking after ill husband
£5000 Assistance for former RM suffering from cancer
£156 Help for former RM with broken car
£682 Cooker & hob for wife of former RM (house fire)
£5000 Care home costs for former RM
£4916 Financial help for former RM
£2800 Assistance with care home costs for family of RM
Hasler Company HMS Drake Plymouth
Help Our Wounded Royal Marines and Supporting Arms also make grants available to other charities. Since becoming a recognized charity we have donated £40,000 to Hasler Company of HMS Drake in Plymouth where our wounded receive, amongst many valuable services; rehabilitation in the use of prosthetics for those that have lost limbs, training either to rejoin their units or to prepare themselves for civilian life once they can no longer serve their country as a member of the Armed Services.
42 Commando Homecoming
Help Our Wounded Royal Marines and Supporting Arms are proud to have given £6,000 to pay for wives and families of seven deceased Royal Marines so that they could attend the 42 Commando homecoming and medal ceremony on return from Herrick 14, Afghanistan.
UK Homes 4 Heroes With Pride and Passion
Help Our Wounded Royal Marines and Supporting Arms have also dontated £1,000 to UK Homes 4 Heroes Pride and Passion, a charity which helps homeless ex-service personnel