Our Help Our Wounded Royal Marines & Supporting Arms dedicated team work on an un-salaried basis, they are;
David Lilburn MBE – Chairman/Trustee
Chris Falcke – CEO/Trustee
Graham Evans - Trustee
Jean MacPherson – Trustee
Wendy Britton – Administrator
David MacPherson – West of Scotland Coordinator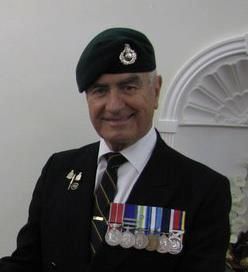 Founder
Help Our Wounded Royal Marines and Supporting Arms is a UK based charity, involved in the assistance of wounded Royal Marines and members of their Supporting Arms (any member of the Armed Forces who has assisted the Royal Marines during operations). Founded by former Royal Marine Commando Chris Stubbings BEM, who joined the in June 1954 as a 15 year old Junior Bugler the youngest and first Junior ever to serve at Dartmouth College. During his remarkable career with the Royal Marines he served in the Falklands conflict in the 1980's as part of the 40 Commando Royal Marines Assault Engineer Troop. During this operation he became heavily involved in mine and bomb disposal work, it was here that he saw first-hand the horrors of anti-personnel mines, IED's and pipe bombs. The conflict in Afghanistan involved an extreme number of explosive devices and Chris knew the number of troops likely to be injured in such a way would be vast and funding was not always available to wounded troops. So at that time it was decided to set up Help Our Wounded Royal Marines and Supporting Arms to supplement existing Royal Marine Charities with funding to help our wounded and their families to return to as normal life as possible.
In March 2010 We began as a fundraising arm of the Royal Marine Charitable Trust Fund, to assist those returning from operational tours in Afghanistan with debilitating, and often life changing injuries. In February 2013 Help Our Wounded Royal Marines and Supporting Arms achieved recognised charitable status, Registered Charity Number 1150893.
Help Our Wounded Royal Marines and Supporting Arms now assist wounded troops dating back to WWII, we do this by promoting and protecting the physical and mental health of those that have been wounded, injured or suffered psychological trauma. We help those who are suffering from financial hardship, or from mental or physical illness of any description, through the provision of financial assistance, training, counselling and support; we also assist spouses, civil partners, children and other dependents of members, former members and deceased members of the Royal Marines and Supporting Arms. We make grants available to other charities and since becoming a recognized charity have donated £40,000 to Hasler Company in HMS Drake in Plymouth where our wounded receive rehabilitation in the use of prosthetics for those that have lost limbs, training either to rejoin their units or to prepare themselves for civilian life once they can no longer serve their country as a member of the Armed Services.
Chris Stubbings B.E.M.
Co Founder of Help Our Wounded Royal Marines and Supporting Arms.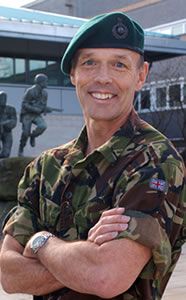 Help Our Wounded Royal Marines and Supporting Arms are extremely proud and to announce that Chris Terrill has very kindly agreed to be a Patron of our Charity.
Chris Terrill has an excellent long-running relationship with the Royal Marines, having completed his full Royal Marines Commando recruit training and earning his coveted Green Beret in 2007. Chris Terrill is the only civilian to actually earn his Green Beret on completing his Royal Marine training at the age of 55. What makes this feat more remarkable is the fact that he filmed most of the process himself for The 55 Year Old Commando. He then filmed Commando – On The Front Line, where he followed his "oppos" or fellow recruits on deployment in Afghanistan
Thus began Chris's love affair with the Corps, since then he has joined serving Royal Marines to film Go Commando and War Torn Warriors as well as working alongside Commandos on the front line in Afghanistan to film Royal Marines: Mission Afghanistan and Commando: On The Front Line Update.Chris is also very well known outside the Royal Marines, having started his filming career in 1989 and has completed numerous anthropological studies which have earned him several awards and nominations.
In between Chris' busy film work schedule he has agreed to become our Charities patron and will be seen out and about helping us raise much-needed funds for injured Royal Marines and Supporting Arms from all conflicts. Chris has already participated in one of our events and we look forwards to seeing him attend many more in the years to come as Help Our Wounded Royal Marines and Supporting Arms continues to grow.